The Gulwing is Lissett's most architecturally advanced home yet, the Gulwing Lodge has a roof design that's the first of it's type in the industry.
The Gulwing provides a stylish, contemporary space. Its unique design creates a home bathed in natural light, creating a bright, airy space, whether you are relaxing with family or hosting friends,
State-of-the-art technology features throughout, from WIFI-enabled coffee machine and taps that produce boiling water instantly, to voice-controlled blinds and lighting.
Key Features
Voice-controlled blinds, lighting and music system

Build using SIP technology

Underfloor heating

WIFI-enabled coffee machine

KEF Speakers in the lounge

Built to BS3632
View our brochure
For more information on Lissett Homes or a specific lodge/home, download our brochure below: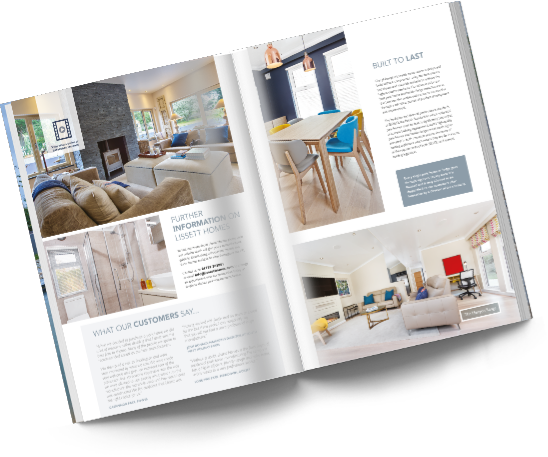 Why not arrange a viewing or come visit us
For further information, to arrange an appointment or to discuss your requirements further, please contact us on 01759 302801.
We found the design process easy, mainly due to your staff who were helpful and' informative and made constructive suggestions to help us along. When we moved into our home we were impressed by the quality of the fixtures and fittings. The whole experience with Lissett has been a good one, the quality of the home is excellent and the after-sales service is also excellent. We would recommend Lissett to other people.
Wooler, Northumberland
Without doubt, Lissett Homes is the Rolls Royce of residential park home manufacturing. The company has a highly efficient, friendly design and sales team which results in a very professional service.
Lone Pine Park, Ferndown, Dorset
When we decided to purchase a park home we did a lot of research before deciding that Lissett was the best firm to choose. Many of the people we spoke to recommended Lissett as the best manufacturers. We then paid a visit to Pocklington and were very impressed by what we saw. We were made very welcome and given an excellent tour of the production line. Particularly impressive was the way we were allowed to see exactly what went in to the manufacture, the materials used and how each house was constructed. We felt confident that Lissett was the right choice for us.
Caerwnon Park, Powys
Having worked with Justin and his team at Lissett for the last three years, I can confidently say that you will not find a more professional lodge manufacturer
Josh Donald, Managing Director at South West Holiday Parks
We chose Lissett after seeing the quality and finish in one of their show homes. We made a visit to Lissett's factory and once again we were very impressed by the quality of the build. We were able to alter things to suit our requirements and also chose colour schemes and wallpapers. When we saw our new home on site for the first time we were completely taken aback, talk about the 'Wow Factor'. Everyone who visits us always comment on the quality of the design and the finish. We made the right decision when we chose Lissett, we got a quality home and a great after sales team!
Wooler, Northumberland